EXECUTIVE HOME OFFICE SOLUTIONS


the Art of Detail for your front office and welcome area
Welcome visitors with a personalized aesthetic created by light, color, space, and furnishings.

Colecraft Commercial Furnishings is the clear leader in creating custom Reception Desk solutions in North America. We merge traditional craftsmanship with state-of-the-art technology, engineering, and CAD design to create custom and bespoke solutions that inspire positive and lasting first impressions. Our design and engineering team works with you to accommodate your style, scale, technology, and functional needs to achieve your design intent.  All of our furniture and architectural casework are custom built by skilled artisans in Jamestown, NY, to our superior standards. 

Explore our reception desk designs below or contact us to talk to a design consultant about a new concept. We can start with just an inkling of an idea.





FEATURED DESIGNS
OUR CAPABILITIES
We employ skilled artisans and use state of the art technology to bring your design to life. We work with a variety of materials to expand your creative desires; solid wood and veneers, laminates, stone, quartz, glass, steel, leather, lighting, signage, acrylics, solid surfaces, and more. The possibilities are truly endless when it comes to designing your dream office space. To learn more about the material available click Here.
PARPAN SAFETY SHIELDING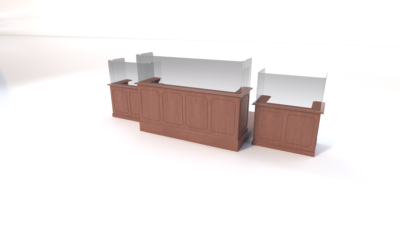 PARPAN, Colecraft's clear polycarbonate panel system, can be incorporated into new furnishings as well as customized to partition existing desks and conference tables. Designed with hard, easily cleanable, non-porous surfaces, the entire product line is easy to install, and meets or exceeds state and local flammability standards.
BESPOKE AND CUSTOM SOLUTIONS
We custom build all of our furniture and furnishings and can create a design specifically to fit your needs. Want a quote? Fill out the custom quote form here, call us at 1.844.500.9356, or reach out to our sales team at sales@colecraftcf.com.
---
Interested in subscribing to our e-newsletter?